My mother sometimes phones to read me a line or a passage, often from The New York Times; and when I was a reporter in my twenties, she called to read me enslaved by the scent of lilac.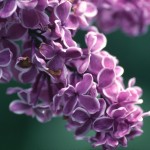 She savored the idea of a passerby bound to a lilac bush by invisible ropes of scent.
Enslaved is not a word I lightly use; it's up there on the shelf with holocaust. Yet the entwining of brutality and beauty to create an intangible bond was so heady, and so closely tied to fiction in some way, that the clause has stayed with me for decades.
It came back to me several times recently. This week I discovered In the Library, a perfume from the company CB, whose credo includes: "I hate perfume."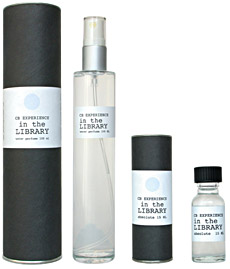 The fragrance In the Library is redolent of
English Novel taken from a Signed First Edition of one of my very favorite novels, Russian & Moroccan leather bindings, worn cloth and a hint of wood polish.
It costs $65. O, I am dying to try this one; so far I've only admired the typography on the label, online.
And then there is the far more narcotic odor that rises straight from the page.
I'm still rereading—with exquisite slowness while my mom marvelously recovers—A Portrait of the Artist as a Young Man. From chapter 4 (trust me, I am far beyond chapter 4 by now):
He would fall. He had not yet fallen but he would fall silently, in an instant. Not to fall was too hard, too hard; and he felt the silent lapse of his soul, as it would be at some instant to come, falling, falling, but not yet fallen, still unfallen, but about to fall.
At this my wrists start throbbing, and I type "last paragraph of The Dead" into Google and find:
His soul swooned slowly as he heard the snow falling faintly through the universe and faintly falling, like the descent of their last end, upon all the living and the dead.
Don't you love the resonance? Can you smell the ink and yellowed paper yet? (Will you and I both order In the Library and recognize each other in the supermarket by scent?) I'm going to guess, in my ignorance, that Joyce wrote the Portrait paragraph first—but for an earlier manuscript that he called Stephen Hero. Set the record straight if you know.
By now, I'm scrolling down this blog called Falling Faintly to read other marvelous last paragraphs, including some Denis Johnson, for which many thanks, and also another example of repetition that seems to stream from Joyce through Faulkner to McCarthy, genetically speaking; Mendel with his peas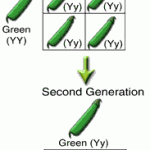 would have been entranced.
The Last Paragraph of Cormac McCarthy's Blood Meridian

And they are dancing, the board floor slamming under the jackboots and the fiddlers grinning hideously over their canted pieces. Towering over them all is the judge and he is naked dancing, his small feet lively and quick and now in doubletime and bowing to the ladies, huge and pale and hairless, like an enormous infant. He never sleeps, he says. He says he'll never die. He bows to the fiddlers and sashays backwards and throws back his head and laughs deep in his throat and he is a great favorite, the judge. He wafts his hat and the lunar dome of his skull passes palely under the lamps and he swings about and takes possession of one of the fiddles and he pirouettes and makes a pass, two passes, dancing and fiddling all at once. His feet are light and nimble. He never sleeps. He says that he will never die. He dances in light and in shadow and he is a great favorite. He never sleeps, the judge. He is dancing, dancing. He says that he will never die.
Warning: Page perfume can cause delusional behavior at the keyboard.
Last summer, for a six-week spell, I was reading part of Ulysses (with a group, and a study guide) simultaneously with The Sound and the Fury and As I Lay Dying (with a class at Politics & Prose). Between Benjy, Bloom and the maddened Darl, the scents rising from those three sets of pages so infected my brain that I wrote two new chapters for my novel-in-progress in a kind of stream-of-consciousness. Then (insert head-smack here) I sent them to my agent. Yes, I did. Go ahead and feel smug. Two months went by. Being deaf to subtlety, I phoned.
"I didn't understand them," she said. "You weren't telling a story anymore."
Joyce tells stories. Faulkner tells stories. Landis, apparently, was blethering.
I still believe in trying anything, but also in sleeping on it, and being rigorous about clarity and story. I trashed the chapters, began groping my way back to Story and my own voice.
It's all hard, isn't it?