This is what I know about myself: the safest thing I can do is take a risk, while the riskiest thing for me is to play it safe.
–from Poet Mom, the blog of poet January Gill O'Neil, author of Underlife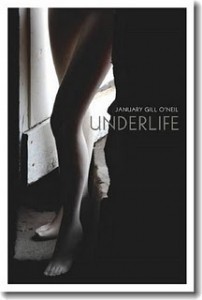 Perversely, when I am several months into writing a story, or several years into a book, I stall. And not just stall. I flee. This happens just as the thing starts to seem like a genuine piece of narrative—albeit still a rambling piece of crud, but one that might soon start to crystalize.
It would be lovely to think that my subconscious is saying, Honey, just let the manuscript percolate for a few months. But I'm suspicious. I think dread of some kind is involved. Dread of failure? Fear of success? Whatever's going on down there in the writer's basement, I'm playing it safe, taking no risks: not writing. And the manuscript, far from percolating, becomes a distant object.
I have marvelous excuses. An intensive book tour. Can't write in hotel rooms; bad ergonomics kill my hands. A friend's chemo, necessitating a two-week trip. Another friend's novel, which I line-edited with much pleasure for two weeks. My mom's fourth hospitalization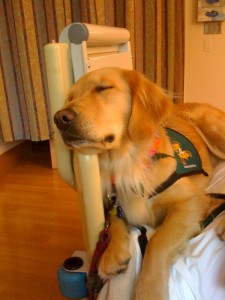 (involving more dog therapy, of course—that's Pippin in dreamy splendor at the foot of the bed) and my six-week relocation to L.A.: Who could work? I'm never home; it's a theme. My shiny new blog. There's more; shall I keep going?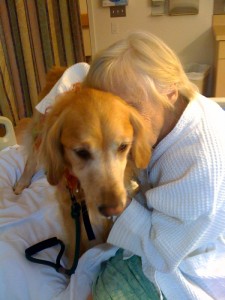 In Santa Monica's Diesel bookstore this evening I was amazed to see, as if for the first time, that some writers come out with books on a regular basis and some do not, and that I really have only two choices for my sparse free hours and bad hands: blog-email-Facebook (which has brought many new writers into my world), or work on the terrifying half-done novel. In Diesel, finally, I saw it as a choice—for now, at least, after five months of book-travel and caregiving. And so I hope to unplug, though not to a Luddite extent, and get back in near-daily touch with the novel. I feel almost Seussian about this vow: I will write it on a train, I will write it in the rain, I will write it in my bed, I will write it in my head.  Most important, I promise to take the risk of writing it on the bad days.
(Dog therapists trained and provided by the nonprofit Love on 4 Paws.)