It's not what happens in a story that counts. It's how your character reacts to what happens.
Janet Fitch said that, possibly at the Squaw Valley Community of Writers. And my friend Natalie and I have been discussing this as we work on our novels, because it improves every passage or scene we apply it to. Taken down to a cellular level, it really is the essence of intimate third person (a Henry James term, yes?).
Working in close third and struggling against lapses into middle-distance third, I find this means that the character, not the author, gets to do all the observing & describing. Ergo any details about people, setting or objects must be true to character, not to author. (I learn very, very slowly and am thinking aloud here.)
For me it means avoiding terms like "she saw" or "she noticed"–this relates to the chapter on free indirect discourse in James Wood's How Fiction Works (Picador).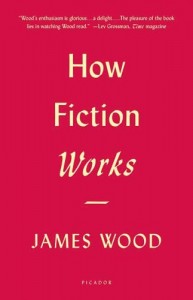 Ultimately whatever the character observes will reveal her–sometimes what's being described is secondary.
So here's my cellular-level paraphrase: it's not what gets described in a story that counts; it's how it registers on your character.
And here is Lillian, the main character in Amy Bloom's extraordinary novel Away (Random House), walking across Alaska on a desperate trip to find her little girl. But it is not Amy Bloom's snow that she complains about. It is Lillian's snow:
O Goddamned sky, O Goddamned sea, O Goddamned and everlasting snow is what Lillian says to herself as she walks. She could be calling out the Stations of the Cross or naming the circles of hell as she descends. Everything white is her enemy…She needs to keep looking at the clumps of red berries—the red is a small comfort and it rests her eyes.

So we see where she is—but also, in just a few sentences, 193 pages in, we get a new aspect of Lillian under a new and particular duress.
Also at Squaw Valley, a novelist said: "First put your character up in a tree, then throw stones at him"—was it Jay Gummerman? Where are my damned notebooks?
–  –  –  –  –  –  –
In a Twitter status update on Dec. 30, 2009, Colson Whitehead designated January ShThFuUpAnWoOnYrNo month. (If you have to ask…if you still have to ask…) I know! It's brilliant! And if you missed the tweet you saw it on Maud Newton! But I bumbled into this two weeks late. Hence the Unofficial Colson Whitehead February Grace Period, tailored for those who should not blog till their novels are done.
ShThFuUpAnWoOnYoNoMoUnCoWhiFeGraPer.
Indefinite extensions anticipated.
Tags:
Writing